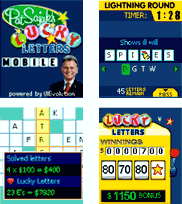 Get Lucky Letters on Your Phone


For your Cingular phone
Choose the "MediaNet" option to launch a browser and access Cingular's MediaMall. Select the category called "Tones, Games, Pics" from the Cingular MediaMall list. Look for the "Puzzle" option and you'll find Pat Sajak's Lucky Letters in the "Number and Letters" folder. Choose to subscribe and follow instructions.

If you can't find the games, check the "New Arrivals" and "Featured Picks" folders. You can also visit CingularExtras.com online and select your Phone make and model or enter a search term like "Lucky Letters". Click to subscribe and follow the directions to load the game to your phone.

For your Verizon phone
Select the "Get it Now" option from your phone menu. Using your navigation arrow scroll down to "Get Fun & Games," and press the "ok" button. The browser will launch. Choose "Strategy Games" to find Lucky Letters. Press the "ok" button to order the game and follow instructions to load the game on your phone.

If the game title does not appear in either list, try "What's Hot" or "Featured Games" folders. If you cannot find it at all, go online to VerizonWireless.com and look for Games. On the "Get It Now" games page, you will be able to enter your phone make and model and search for the game.
Can you beat Pat Sajak at his own game?

There's plenty of brain-tickling excitement for your mobile phone in this game that combines the excitement of a game show with the challenge of a word puzzle.
Fun for all ages, but still challenging enough for any adult.
Spin the slots to determine dollar values for each clue.
Spot the Lucky Letter in each answer.
Complete the answer using the letters shown on the screen.
Solve each word and the Lucky Letter spreads throughout the puzzle.
Play ten clues to solve most of the puzzle.
Wager some or all of your winnings in a Lucky Chance round.
Race against the clock to finish the puzzle in the Lightning Round.